Would You Trust The Government To Pick YOUR Career?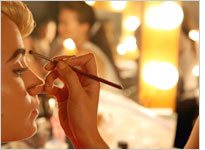 There's
a great article running on Slate
about how ten years ago the U.S. Department of Labor published this tidbit about how - get this -
MAKEUP ARTISTS
were in one of the fastest growing occupations.
Technically this was correct - but there were only something like 2000 makeup artists in the US at that time.
Of course, on the other hand, I'm inclined to cut the Department of Labor some slack.
Having tried to make some money on the stock market for about the last 12 years I've come to the conclusion that trying to predict the future any further out than the end of the week is virtually impossible.
Of course, what really makes me livid is that you're allowed to guess wrong on starting a business pretty much all you want, but God forbid you should make a mistake picking a major in college.
You see ... if you start a business that fails, you can file for bankruptcy.
But if you pick a major that turns out to not be very marketable when you graduate,
THE GOVERNMENT WILL HUNT YOU ALL THE WAY TO THE GRAVE TO GET EVER LAST DIME OF THEIR STUDENT LOAN MONEY BACK
and often double, triple, and quadruple what they originally lent you if you get into some sort of temporary problem.
Yep ... the government can be useful for some things, but forecasting is definitely not one of them ...